Q: Tell me a little bit about yourself. (Where you're from, what you're doing now…etc)
A:My name is Ryan McLaughlin. I am Oglala Lakota and from the Pine Ridge Reservation. I've lived in Rapid City since 2011. I am an electrician and love being one. I get to work on a lot of awesome projects and see cool stuff. Besides work and running, I enjoy disc golf, fantasy football, nerdy/geeky stuff, pop culture, concerts, huge Swiftie, and football fanatic. Go Ravens!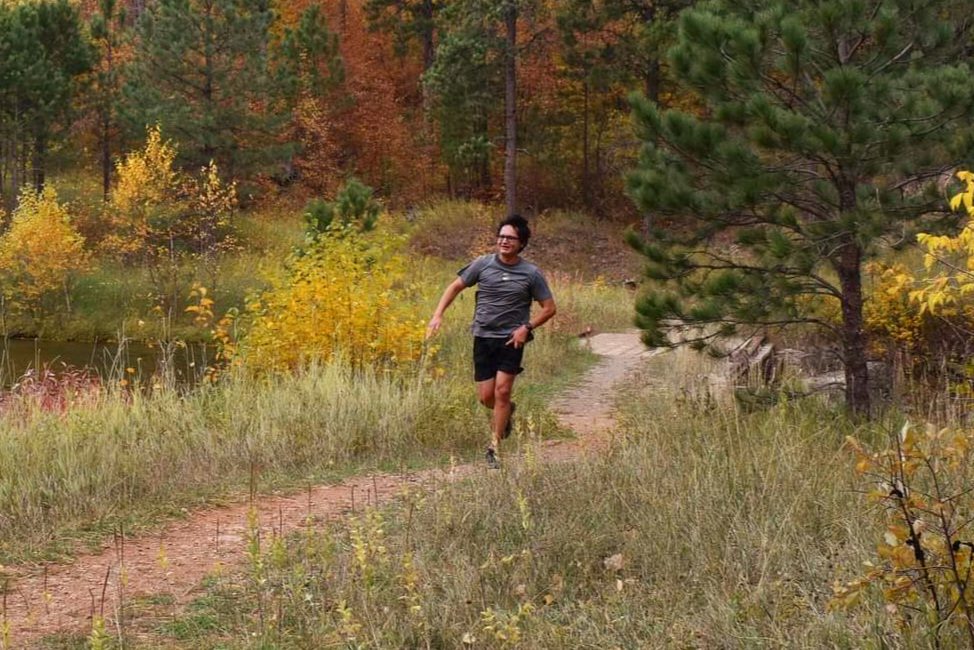 Q: How long have you been running and how did you get started?
A:Well I've played all sports my whole life, but football was my main sport in high school. Even played for School of Mines one year. I did track and field in high school just to stay in shape so that's when I first really did any just running. Fast forward to adulthood, I started running to get back into shape and realized I loved running and was pretty good at it. Been a "runner" since.
Q: Would you rather run with a group or alone?
A: I mostly run alone. It's my alone time. I pray, manifest, meditate, coach myself, etc. There's a lot going through my head on my runs. Running races is enough group running for me. 
Q: Do you prefer roads or trails?  
A: Trails, Trails, Trails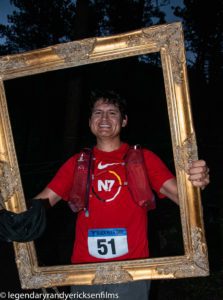 Q: What is your favorite distance or race?
A: 100 miles. I've only done it once, but it was life changing. I plan on many more. It's just the ultimate test of your whole being. 
Q: How do you stay motivated when you don't want to run?
A: Well even when I don't want to run there's always that voice in my subconscious saying, "you should be running." So I try to listen to that. And when I'm lazy I watch ultra running videos on YouTube and that usually gets some motivation flowing.
Q: After a long run or a hard workout, do you treat yourself to something?
A: I'm always happy if there's ice cold beer after a long run or race. I definitely treat myself to that.
Q: If I didn't run I'd ………..
A: Probably be dead. 💀
Q: What do you find to be the most rewarding thing about running?
A: The most rewarding thing for me is the mental clarity it gives me. It keeps me happy, stress free, motivated to do good, and it's the best medicine.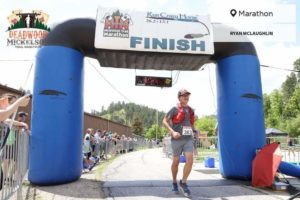 Q: What is your favorite running memory?
A: Running my first marathon. It was the Stoneman Marathon. I was still a beginner runner and had no business running the Stoneman. I didn't even run trails at the time. I got lost and ended up running like 32 miles or so. It became an unplanned ultra. I didn't even know ultras existed at the time let alone how to run them. What could go wrong, went wrong. I was ignorant though and had no idea what I was doing. I just did the damn thing and fell in love with trail running.
Q: What's the most valuable lesson you have learned from running?
A: I've learned that I am capable of doing amazing feats and that I have a strong mental capability. Things no one can ever teach or tell you. You just have to get out there and find out for yourself.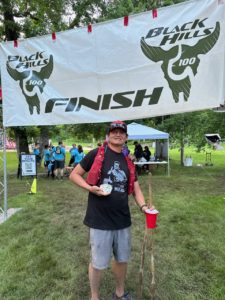 Q: What are your running goals for the future?
A: My goals are to become better at ultra running and travel to a lot of the awesome races around the country. Maybe even some international. Running in new places is exhilarating and the best way to explore this world we live in. I haven't seen much of it and I want to. 
Q: Who inspires you most?       
A: My mother. She's been through a lot, dealt with a lot, and she's still here, stone cold and strong as ever. She is my rock, always there to help, give advice, chew me out, and cheer me on through life.
Q: What advice do you have for new runners?
A: Trail run.😂.  No, but seriously getting out the door is the most difficult part. Once you're out running you only get better from there on out. I would say think of running as a lifestyle. It can't be a habit you can quit anytime, and you can't stop after you reached your goal. That's the best part about running. You are always getting better the more you do it, and you'll be amazed at what changes happen in your life.