Q: Tell me a little bit about yourself. (Where you're from, what you're doing now…etc)
A:
Laura: I grew up in Southern California and lived a couple of blocks from the ocean.  I met Mike in my mid 20's when we were both working at Orange County Juvenile Hall and shortly after we married I went to law school.   After graduating from law school we moved to Sonoma in Northern California where we lived and worked until we retired and moved to South Dakota.  I am a failure at retirement because I spent last summer studying and taking the South Dakota bar exam and I now work as an Administrative Law Judge for South Dakota.  In California I was also a Judge and presided over cases involving foster care, legal guardianships and adoptions.  Now I preside over reemployment assistance cases so I have entered into practicing an entirely different type of law.  
Mike: I too, grew up in Southern California and after College I spent over 30 years as a Police Officer working for multiple agencies. I spent my last 21 years in Law Enforcement working for California's Department of Alcoholic Beverage Control, regulating the alcohol industry. I have been better at retirement and only went back to work part-time as a Firearms Specialist for Cabela's. I am an avid hunter and have recently taken up Archery.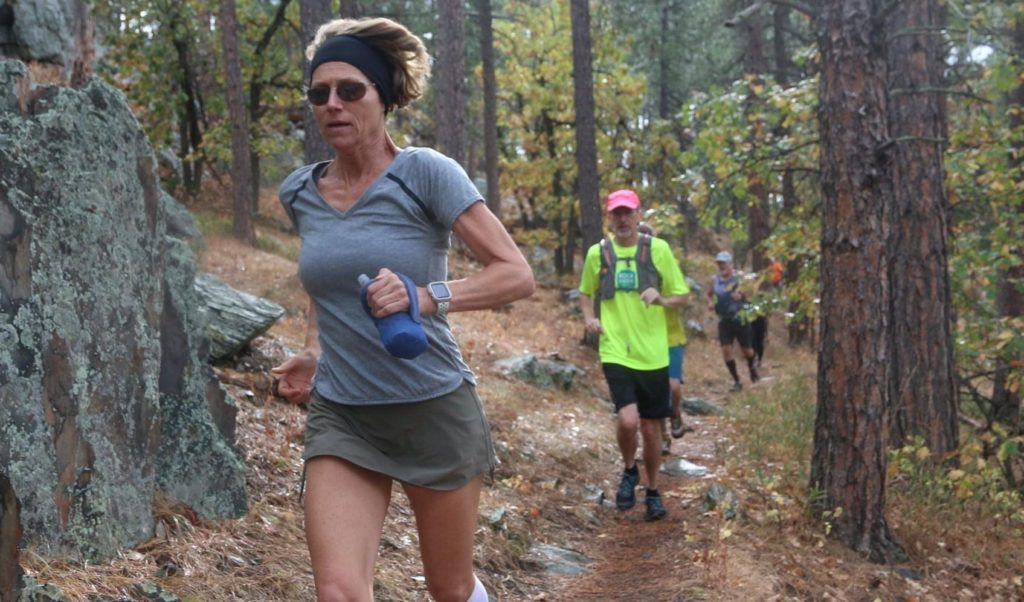 Q: How long have you been running and how did you get started?
A: 
Laura: I ran my first 10K when I was 11 years old and I have continued running cross county through high school.  I stopped running in my early 20's and did not think I would ever get back into running until a friend asked me in 2014 to go to Disneyworld to do the Disney Marathon Week –the half and full marathons (also known as the Goofy challenge for good reason) in January 2015.  While we were training for that, another girlfriend got inspired and asked us to do a half marathon with her that May, which I begrudgingly agreed to and thought that was going to be it for me and running.  But then another girlfriend learned that I had done the Goofy challenge and was training for a half marathon in May 2015 and convinced me I needed to do Run Crazy Horse half marathon with her in October 2015 because we needed to go to visit our friend in Rapid City and run it with her.  Mike came with me and that is what lead to us eventually moving to SD.  I haven't stopped running since I started again in 2014 other than for a couple of weeks here and there for injuries.
Mike: I was forced to run as a soccer player in my youth and ran to stay in shape. I spent years mountain biking to maintain my fitness while working in Law Enforcement. After knee surgery from a work-related injury, I stopped running at the end of my career and only started again to spend time with Laura on her races. She is the true runner, and I am the true Clydesdale. 
Q: Would you rather run with a group or alone?
A: 
Laura: I like both – alone when I need to process something, really think it through, but I also enjoy running with groups.  I still really miss my running partner from Sonoma and the group of women I used to run with every Saturday morning in Sonoma.  Living up in the hills makes it difficult to do the group runs during the week and even most weekends.
Mike: I am more of a solo runner and do most of my maintenance miles on the treadmill to get my nominal miles in.  
Q: Do you prefer roads or trails?  
A:   
Laura: I like both but I think lately I prefer trail running.  It is definitely more of a challenge for me, which I like, but I really enjoy the variety and scenery.  It also doesn't hurt as much when I fall as it does to fall on the asphalt usually.
Mike: Trails. Being in the hills makes the run more enjoyable and I REALLY look forward to the return, downhill half of the races. The trail races have been great to get us to areas of the hills that we have not been to.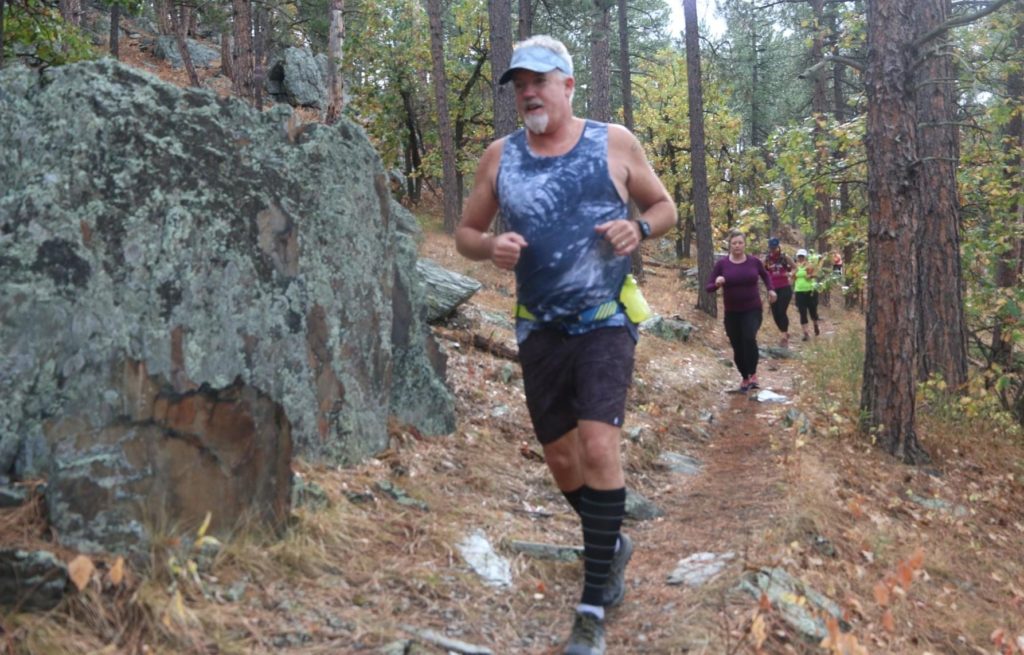 Q: What is your favorite distance or race?
A:
Laura: For a race, definitely half marathon is my preferred distance.  For a daily run I like about 5 to 6 miles.
Mike: 5K for both training and races, as well as anything under a 10K for races. My knee doesn't like races beyond 10K. 
Q: How do you stay motivated when you don't want to run?
A:    
Laura: Great question – I'm still working on that answer.  What I've always liked about running is you can do it anywhere including right out your front door.  Most days I try to just put on my running gear and head out the door before I put much thought into it with the intention of maybe running a minimum distance if I am still lacking motivation but I will usually run further once I get going.  Sometimes I just get ready to run on autopilot while I'm going through all of the excuses to not go for a run and I will start my run still working on the reasons to avoid a run that day.  Once I start going I'm good to go, but getting out the door is the hard part.  
Mike: Get on the scale and cringe. I do best by signing up for races and forcing myself to train. The race series have been great to keep me going throughout the year. 
Q: If I didn't run I'd ………..
A:   
Laura: I'd probably have less weeds in my garden and a cleaner house.  
Mike: I would be rounder.
Q: What do you find to be the most rewarding thing about running?
A:   
Laura: The people I've met through running.  
Mike: Spending additional time with my runner wife. 
Q: What is your favorite running memory?
A:   
Laura: In July 2021 I was intimidated to run Hell Canyon so I decided to go run it before the BHRC scheduled race.  Mike didn't want me to go by myself so he went with me and he decided to walk it while I ran it.  He liked that trail so much that he decided to run the race as well and he has run every BHRC trail run ever since.  
Mike: Hell Canyon Race since it got me started running again after my knee injury. 
Q: What's the most valuable lesson you have learned from running?
A: 
Laura: My cross country coach used to always tell us there will always be someone faster and someone slower than you.  Keeping that in mind, I just try to run for myself.
Mike: That the only race you lose in the one you didn't do.  
Q: What are your running goals for the future?
A: 
I'd like to finish the Haven Half without feeling like I'm lost on the trail and without thinking death is a possibility!  Running that race and feeling good enough after to enjoy the food, drinks and music would be wonderful (just being able to remember the music afterwards would be nice).
Mike:  I would like to get more consistent with my training, so I feel stronger on the uphills. Completing every trail race each year is my long-term goal.  
Q: Who inspires you most?       
A:   
Laura: Mary Etta Boitano Blanchard.  She is an amazing runner and was my Sonoma running partner.  She started running at a very early age (she ran her first marathon at age four but stopped after 20 miles, and finished her first marathon at age five), she has raced all over the world, and she is still running at 60 years old with the ability to run at a six minute mile pace for a marathon.  I learned so much from her about running and she introduced me to the Dipsea Race course in Marin, CA, which I might try to do again someday.  
Mike: Laura, she completed every race last year while she was working fulltime and studying for the Bar Exam. She gets me signed up and motivated to go to the races.
Q: What advice do you have for new runners?
A:
Laura: Run your own race, etc. and don't let others try to tell you how fast or slow or far you need to go.  Running should be enjoyed and not dictated by anyone but you.
Mike: Do your own thing and don't let the faster folks get you down. There will always be someone faster and someone slower than you. Have fun and look around at the beautiful place we live in.