1. Q: Tell me a little bit about yourself. (Where you're from, what you're doing
now…etc)
I am originally from the Black Hills and spent years away in Minnesota and Massachusetts
before returning to this beautiful area. I have three amazing kids, Ethan (23), Hannah (13), and
Eve (4), one grandchild on the way, and three dogs that love to run! Oh, and I probably shouldn't
forget to mention my superstar husband Matt, who I get to share my love of running with. I
manage the Firehouse Wine Cellars in downtown Rapid City, and freelance write as a side gig. I
also get to help create new generations of runners as an assistant cross-country coach.
2. Q: How long have you been running and how did you get started?
Oh boy, I have been running since probably the sixth grade, but I hated it at first. Without a
cross-country program, I ran the 400 and 800 in track – which I believe are the hardest races. I
used to get so nervous before races, which is why I hated it so much. After high school, I thought
my running days were over, until the cross-country coach at Minnesota State University –
Moorehead asked if I wanted to join the team. Going from an 800 to a 5K was an interesting
transition, but the thing I loved most was the people I met – the community of runners. That
stuck with me. While I didn't stay in cross-country my entire four years, I was hooked.
3. Q: Would you rather run with a group or alone?
I prefer to run in a group, even if it is one other person. My friends and I call it our morning
counseling sessions.
4. Q: Do you prefer roads or trails?  
I prefer trails; however, I am prone to falling and getting lost so stick mostly to roads.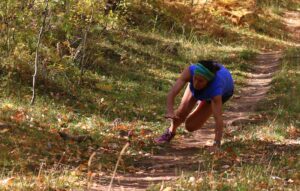 5. Q: What is your favorite distance or race? Hmm, my favorite distance is probably a half
marathon, although I hope to one day do a 50-miler.
6. Q: How do you stay motivated when you don't want to run? My running peeps
motivate me to get up and run. I hate to miss those counseling sessions. Also, I see people in
their 70s, (Roger Heacock, Dan Bjerke ) still running and I want to be them! That is
motivation.
7. Q: After a long run or a hard workout, do you treat yourself to something?
Popcorn and beer!
8. Q: If I didn't run I'd ………..
I'd likely be divorced, haha. Whenever I haven't run for a day or two, my husband will strongly
encourage me to get out and run! It just puts me in such a great mood!
9. Q: What do you find to be the most rewarding thing about running?
The people! I love my running friends. I love the Black Hills running community. I love meeting
new people at races.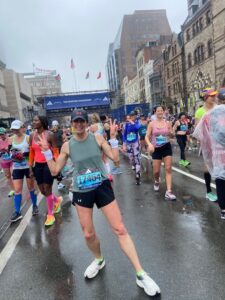 10. Q: What is your favorite running memory?
So many great running memories. Most surround girls' "fishing trips" to races, but I guess one
that sticks out in my mind is my first marathon. I was living in Boston and joined Team in
Training, an organization that raises money for the Leukemia and Lymphoma Society. I raised
$5,000 along with running my first marathon in Bermuda. I got first in my age group, won $100,
and got to meet the Bermudian president. It was quite the start to my marathon journey.
11. Q: What's the most valuable lesson you have learned from running? It doesn't
matter your time, or your place, it is that you are out running and seeing the beauty of whatever
surrounds you.
12. Q: What are your running goals for the future? My goal is to be running (or walking fast)
decades from now with the same people, and to complete an ultra.
13. Who inspires you most?     
The people in this community – so many great people, accomplishments, amazing stories,
obstacles overcome. That is inspiration.
14. Q: What advice do you have for new runners?
Enjoy the journey.