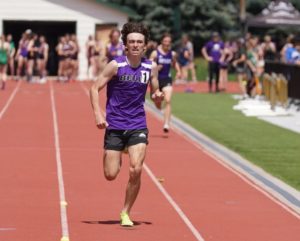 Q: Tell me a little bit about yourself. (Where you're from, what you're doing now…etc)
A:  My name is Sawyer Clarkson. I am from Belle Fourche SD, and I am currently training for  my freshman year of college at Gonzaga University in Spokane, WA!
Q: How long have you been running and how did you get started?
A: At the age of 8 my parents talked me into running a local community 5k, and eventually I was convinced by the XC coach Chris Riley to come out for cross country. 
Q: Would you rather run with a group or alone?
A: I love training in groups!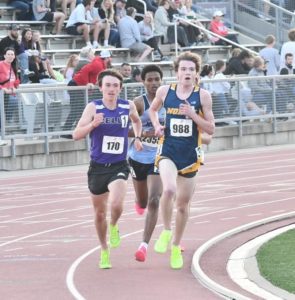 Q: Do you prefer roads or trails?  
A: I am such a big fan of trail running and even do many trail races in the summer!
Q: What is your favorite distance or race?
A: My favorite distance to race is the 5k/10k. The farther the better!
Q: How do you stay motivated when you don't want to run?
A: I do not want to let my teammates and coaches down so I try to make running a habit and stay focused on my goals. 
Q: After a long run or a hard workout, do you treat yourself to something?
A: Most definitely! I love getting the #13 at jimmy johns for 50% off because I work there. 
Q: If I didn't run I'd ………..
A: Probably be a lot better at the electric guitar and go skiing as much as I possible during the winter
Q: What do you find to be the most rewarding thing about running?
A: Setting new pr's or winning big races!
Q: What is your favorite running memory?
A: The 2023 Howard Wood 3200 was my favorite memory! I have always dreamed of winning that race and this last spring I made it happen with a new PR of 9:07.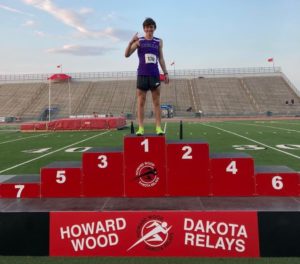 Q: What's the most valuable lesson you have learned from running?
A: You will never regret working too hard. A bad run is always better than no run!
Q: What are your running goals for the future?
A: I want to be among the top 7 runners on the Gonzaga XC team and to become a NCAA XC all american before graduating college.
Q: Who inspires you most?       
A: My Family. My dad works very hard to give me the opportunities to perform at my best, whether it be buying me shoes or plane tickets for national meets in Boston, MA. My mom is extremely passionate in her coaching and puts so much time and effort into helping high schoolers run fast. My brothers keep me on my toes! I know that I have to set the records high because of them!
Q: What advice do you have for new runners?
A: Always stay humble! Let your performances do the talking and respect everyone's efforts no matter their time or placing!